Who are
we?
Agregio Solutions, a wholly-owned subsidiary of the EDF corporation, manages and aggregates nearly 6 GW of decentralised energy assets, whether in terms of production (wind, solar and biogas) or consumption (load shedding and storage).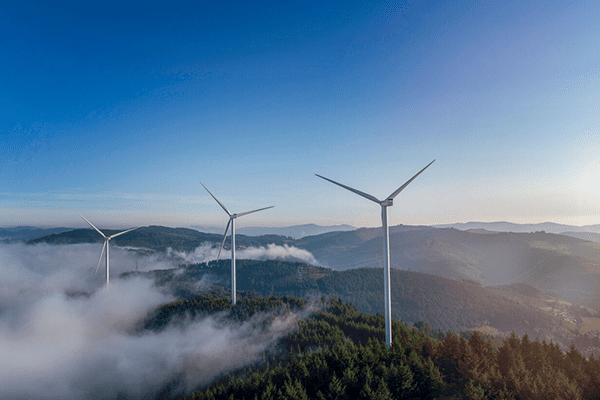 Agregio Solutions,
100% EDF-owned subsidiary
To support their partners in their quest for economic performance and their energy transition initiatives, Agregio and Store & Forecast have become Agregio Solutions: the 100% EDF-owned subsidiary which is a reference on the flexibility markets and for the aggregation of renewable energy and storage.
Working with you and supporting your projects
The electricity system of tomorrow will have an increasing share of intermittent renewable energies: France has set a target of 40% of its energy mix by 2030, compared to 20% today.
For such a system to function, the management of intermittent energies and the development of "flexibilities" are essential to integrating them effectively and contributing to the permanent supply-demand balance.
To meet these challenges, Agregio Solutions develops innovative energy systems to optimize and enhance the value of decentralized energy and flexibilities on all electricity markets.
Agregio Solutions offers you:
Valorizing the production of renewable electricity on the markets through the implementation of Power Purchase Agreements, which are contracts signed with producers to secure revenue from their equipment,
Managing flexibilities linked to consumption and decentralized production and valorizing them on the markets,
Valorizing the flexibility of storage assets,
Setting up Corporate Power Purchase Agreements with end customers who want to reduce their carbon footprint,
Controlling energy through a battery system to create energy autonomy, as in microgrids
Developing tools such as the Virtual Power Plant or battery storage systems
Piloting energy using a battery system to create energy autonomy, as in microgrids
Developing tools like the Virtual Power Plant or battery storage systems
Energy systems that
respond to your challenges
With over 10 years of proven expertise in the field of flexibilities and energy markets, Agregio Solutions has several branches of activity:
Flexibilities by Agregio Solutions
PPA or C-PPA

by

Agregio Solutions
Storage by Agregio Solutions
EMS by Agregio Solutions
By bringing these activities together within a single organization, Agregio Solutions is able to access a full panel of tools to create energy systems that respond to your challenges, from the simplest to the most complex. Its Direction Build for the Future continuously anticipates market needs and is already working towards the systems of the future.
Our recognized
and updated solutions
to take advantage of the best techniques available on the market
The VPP brings together several types of energy assets in order to take full advantage of their market potential according to existing mechanisms.
It's a contract created, directly or via an intermediary (such as an aggregator) between an energy producer and the market to resell a volume of production. Agregio Solutions takes advantage of its energy market expertise to maximize the valorization of the volume of energy produced in this way.
It's a contract signed between a renewable energy producer and a (consumer) customer at a price negotiated for the duration of the contract. This type of contract allows a portion of the volume delivered to the end consumer to be secured and for the price to be guaranteed for a given time period. Agregio Solutions' expertise enables it to support clients wishing to engage in this type of contract by aggregating the volume of renewable electricity (by forming a "band" or "dome" of direct current) and transferring this supply to the customer's supplier so that it can be integrated into the supply contract.
To maintain the balance of supply and demand, and thereby contribute to maintaining the frequency of the grid, operators traditionally use "flexible" power plants, for which they can vary power easily, prioritizing gas-fired plants. Since 2014, with the establishment of the first specific market in the US, batteries have proved capable of rendering this service more efficiently and at lower cost than gas-fired power plants. In Europe, with the creation of specific rules for authorizing batteries and introducing them into the electrical system, this solution has been very successful. Given the context of recent months (the war in Ukraine, pressure on the gas supply), the need for an alternative to gas-fired power plants has been amplified and frequency regulation markets have begun to show very high demand for batteries.
The control software that relies on storage solutions and enables the battery to be activated so that it charges or discharges at times when renewable energy sites are producing or when the price of the volume of energy distributed by the national electricity grid is most competitive.
The manual control of energy, used mainly in microgrids. This technical device allows the grid to be stabilized.
Discover our solutions
Want to learn more about our activities? Discover all our solutions adapted to the needs and projects of each client.
Join our team
Interested in joining our team or learning more about it? Disover all of our job opportunities and our philosophy.