Manage your electrical installations (EMS)
Looking to optimize an installation containing an electricity storage system? Our EMS controls your site's electrical equipment intelligently and autonomously.
A solution design to…

Electricity Producer
Renewable Energy Project Developer

Storage Product Developer

Industrial or Tertiary Business

Network Manager
Balance Responsible Entity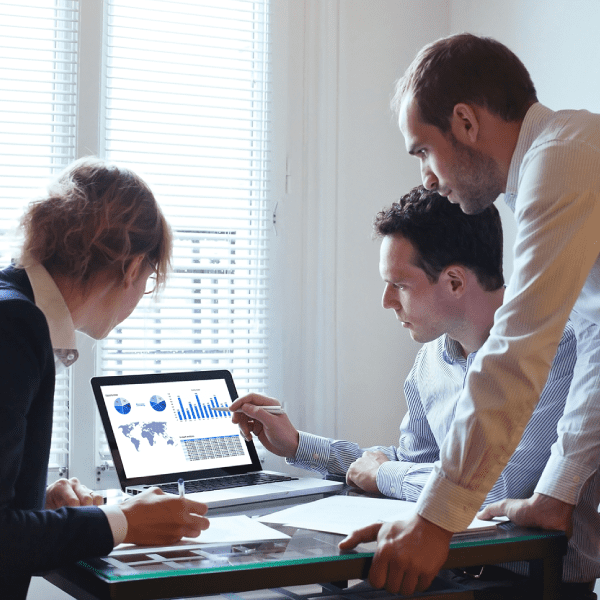 Make your storage-equipped electrical system smart and autonomous
Our EMS (Energy Management System) intelligently controls your site's electrical grid to optimize your renewable energy production. Our EMS software solution makes the right decisions for you (e.g., increasing your site's profitability or renewable self-consumption), taking into account your site's specificities to help you meet your objectives :
electricity costs and pricing,
photovoltaic and wind production forecasts,
regulatory constraints,
technical constraints of production equipment (e.g. biomass, diesel generators, wind turbines).
Download the EMS C&I product sheet
How does the EMS make the right decisions?
Paired with a battery storage system, our EMS will make the right decisions for you by:
collecting all the information required for decision-making (e.g. measurements of the battery's state of charge, photovoltaic production previsions, equipment availability…)
calculating the planning of the production assets that contribute to the system's overall performance,
sending instructions that translate planning decisions to the equipment,
controlling equipment in real time and adjusting instructions as needed.
Linked by our team to your production or consumption equipment via industrial PCs, it operates 24/7.
It has exceptionally fast response times — from as little as 500 milliseconds to a maximum of 30 seconds. As it's tailored to your needs and your energy project, our control solution allows you to optimize your energy production in real time.
How does it ensure proper management of your facilities?
In addition to its responsiveness, our EMS ensures that transmissions to the balance responsible party are managed effectively through the use of a wide range of protocols (SFTP, FTP, API, SMTP) and the forecast delivery service by default.
In addition to its technological capabilities, our EMS solution includes secure access to your data via a dedicated web interface allowing you to visualize your energy optimization.
In the case of microgrids, our SCADA (Supervisory Control And Data Acquisition) solution offers you the possibility of supervising your electrical installations in real time and performing manual actions if necessary (e.g. black start).
Support throughout your project
Our team supports you throughout your project to provide you with the EMS best suited to your needs and to develop and operate it in the optimal way. In addition to the performance and availability of our intelligent energy management solution, we can provide the required preventive maintenance and corrective actions necessary for the operation and efficiency of our EMS throughout the life of your project.
Our support,
the benefits for you
Integrated expertise
Since 2018, we have been occupying a space at the heart of the Concept Grid, a place, unique in Europe, located on the site of the EDF Lab Les Renardières in the Paris region, to develop our solutions while benefiting from the knowledge of storage experts, particularly in terms of fire safety.
At Agregio Solutions, we devote a significant portion of our resources to innovation to improve our services and facilitate our customers' experience. Our innovation spans over multiple areas, from research into new storage system architectures, to methods for optimizing and forecasting variable renewable energy, to new software features. These research and innovation projects are carried out using the resources of the EDF Power NetWork Lab.
Get the best out of renewable energy
With Agregio Solutions' energy storage solutions, you become a proactive participant in the energy transition and enhance the flexibility of your storage assets while reducing your carbon footprint — solutions and outcomes that bring value to your brand image.
A range of features available to fit your site and your objectives
Generate additional revenue for your business by participating in a load reduction program, contributing to frequency control and selling produced electricity at the optimal time,
Save money on your electricity bill by reducing the power demand, consuming at the best price and limiting your risks from market volatility,
Consume green energy by maximizing your self-consumption,
Manage an isolated site and switch to islanding mode to maximize use of your diesel generators,
Prevent blackouts at your site,
Save on fuel costs and reduce your exposure to the volatility of fossil fuel prices (e.g. fuel oil),
Integrate the key points of a grid operator's specifications (e.g. those of the Energy Regulation Commission – CRE).
Contact our team
Need to know more about our solutions and commercial offer ?
Our team is at your disposal to guide you and define project.
Our support
over the life of your project
of your energy management system (EMS)
Customized development of an EMS solution in line with your requirements and objectives
Development of the control algorithm during the study phase
Design and development of the supervision and control interface (SCADA)
Management of the Onsite Works Phase
Simulation of the pre-production environment
Procurement of required equipment
Installation, configuration, interoperability tests, receipt
Corrective and preventive maintenance: analysis, diagnosis and debugging in case of anomaly
24-hour remote supervision
Warranties management
Data analysis and reporting
Progressive maintenance: continuous product updates and improvements
Contact our team
Need to know more about our solutions and commercial offer ?
Our team is at your disposal to guide you and define project.
Also discover…
StorBox, our efficient and secured stationary electricity storage solution to ensure the success of your energy project.